Guadalajara De Dia 2
566 Seneca Ave, Ridgewood, NY 11385
Order now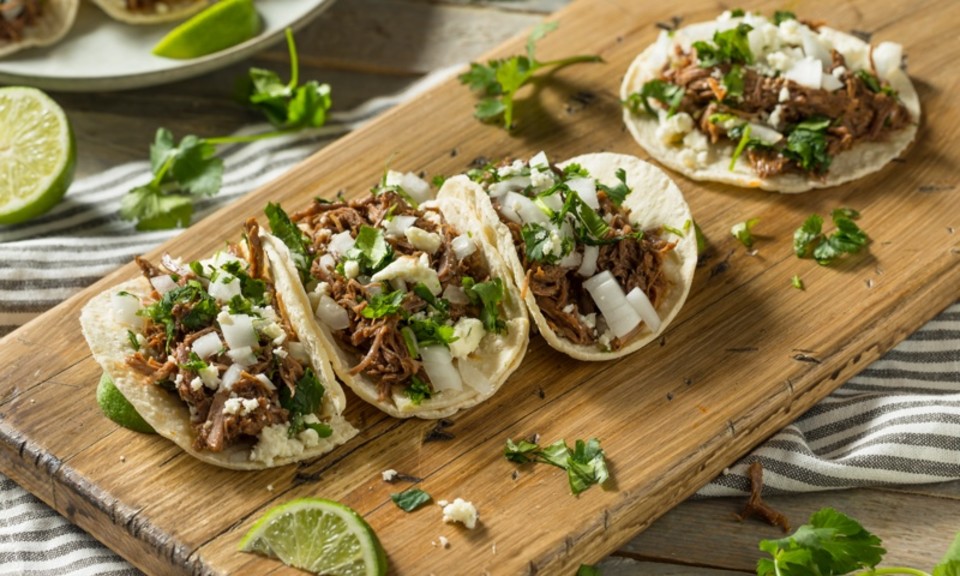 Megan
Our usual Taqueria Kermes was closed for the evening so we ordered from this spot. One order of enchiladas and an orders of shrimp tacos. 25 bucks, large portions, tasty food. The shrimp tacos came three to an order and they did not skimp on the shrimp. Nice fat dollops of fresh guacamole on each taco and a healthy serving of chopped tomatoes and red onion mixed in with the sauted shrimp. This might be our new go to for fast Mexican.
Lily
Ordered huevos rancheros with chorizo and it was exactly what I was craving for. Came with loads of tortillas on the side, rice, beans, and a heft serving of chorizo, which was seasoned deliciously. I was already full by the time I ate half but ate all of it anyway because it was so good. Delivery came on time as usual. Love this place.
Sam
If you're wondering where to order great Mexican food at fair price I'd recommend this place. Even though there are more Mexican spots closer to me I'd wait the couple minutes extra to get it from here
ivy
first delivery mexican food since i've moved...portions were larger than expected and very good actual mexican food overall...my only "complaints" are probably more personal preferences
robert
Best Mexican food around! Very delicious food that has such a clean taste. The chili rellenos are done the right way and the quesadilla with chicharon is super tasty.
Mara
Their food is very good. I've ordered their chicken fajitas and wow, it's a lot of food! They're amazing as well. I've had a hard time finding good chicken fajitas in this side of Brooklyn. I've also had their regular quesadillas, which come with rice, beans and guacamole. I loved them. Their guacamole with chips order is also good: not salty, but tasty. Their horchata is very cinnamony, and their watermelon agua fresca hit a spot. I'm definitely ordering more from here. They're becoming one of my favorite Mexican places to order from in Bushwick
Philip
That consom de chivo was simply sublime! I was enjoying it so thoroughly I forgot to add the onion, lime and cilantro I was given. The steak chalupas (mole sauce option) were very good, too. My friend's bistec a la mexicana looked great, and the portion was huge, with loads of rice and refried beans. Oh, by the way, I'm a naturalized Mexican, having lived there for sixteen years, and know what I'm talking about.
mary
This is our go-to place for Mexican in the neighborhood. I LOVE the Nachos Regular and the chicken burritos. My boyfriend is quite obsessed with the enchiladas verdes--the mole is excellent, too. Some other great dishes include the Chorizo Huaraches, the quesadillas and the fajitas. And the pico. The pico is great. Another perk: you can get delicious mole and crema mexicana that they make in house!
Becki
best delivery in the area. consistently good and on time. portions are huge and well priced. the soups are especially good! not a fan of the entree quesadillas but everything else i've had is stellar. Id rec the picaditas, tacos, tortas, chilaquiles, oxtail and spicy chicken soup, stuffed peppers, and the nachos con carne!
Molly
I work from home and order guadalajara basically all the time. My go-to meal is the cheese enchiladas con mole. They are always very accurate with their delivery time. Get the mole. edit: Also the tamales are awesome. I order more than I want on the weekend so I can eat them during the week. Get the mole tamales.
About us
Breakfast, Dinner, Lunch Specials, Mexican
Today

Delivery: 10:00 AM - 7:30 PM

Takeout: 10:00 AM - 7:30 PM

Delivery

Monday:

10:00 AM - 7:30 PM

Tuesday:

10:00 AM - 7:30 PM

Wednesday:

10:00 AM - 7:30 PM

Thursday:

10:00 AM - 7:30 PM

Friday:

10:00 AM - 7:30 PM

Saturday:

10:00 AM - 7:30 PM

Sunday:

10:00 AM - 7:30 PM

Takeout

Monday:

10:00 AM - 7:30 PM

Tuesday:

10:00 AM - 7:30 PM

Wednesday:

10:00 AM - 7:30 PM

Thursday:

10:00 AM - 7:30 PM

Friday:

10:00 AM - 7:30 PM

Saturday:

10:00 AM - 7:30 PM

Sunday:

10:00 AM - 7:30 PM
Order a tasty Mexican dish from Guadalajara De Dia 1 today.